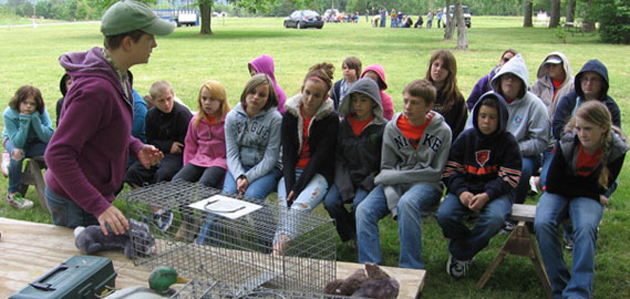 GRASS
Graduate Research Assistants Supporting Science
Who Are We?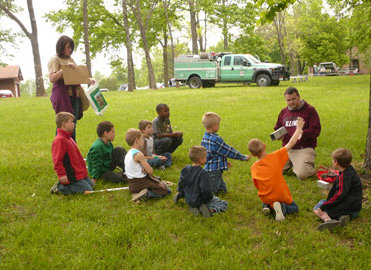 GRASS is an ecology education program founded and run primarily by graduate students in the Cooperative Wildlife Research Laboratory and Center for Ecology at Southern Illinois University Carbondale. Membership to our student organization is open to graduate students with research interests in ecology. Our aim is to unite our research and scientific interests with the young public and we strive to enhance concepts learned in the classroom by bringing wildlife ecology and management to life for younger students. We work closely with teachers and leaders of youth organizations to reinforce and supplement current learning units using presentations and hands-on activities developed by our members and designed to fit curriculum needs. As researchers focusing on wildlife and human-dimensions related research in southern Illinois, we can present a unique perspective for each of our topics and demonstrate that science is something that the students can understand and practice in their own backyards.
Mission
The GRASS Outreach program mission is to:
Extend wildlife and natural resource management education to local schools and youth organizations
Increase kids' understanding of ecological principles
Be professional (and cool!) representatives of the wildlife ecology field
Promote an interest in protecting and preserving our planet and its resources at an early age for these students
As the environmentalist Baba Dioum once said, "In the end we will conserve only what we love; we will love only what we understand; and we will understand only what we are taught." We aim to demonstrate to youth the importance of the concepts they are taught, the real-world implications of these concepts, and how unique and interesting research in these fields can be. By supplementing their classroom or other activities with presentations from our own research and interests, we hope to help them understand ecological concepts more firmly and to develop a love of nature that will only continue to grow.
Where Do We Work?
Students in the GRASS program have presented a number of topics to the seventh grade classes at DuQuoin Middle School, including topics such as predator-prey interactions, hunting as a management tool, tropical forest ecology, and ecosystems in your backyard: the Cache River. We have also volunteered at events such as Stewardship Week, Earth Day 2012, and the Lake Shelbyville Handicap Deer Hunt 2011, and have taught for groups including the Boys and Girls Club and the Girl Scouts. As we continue to expand our student base and develop new presentations, we aim to expand our program to other schools and programs in the area and to develop working relationships with teachers and youth group leaders across southern Illinois.
How to Get GRASS in Your Class!
As our organization grows, we continue to look for new venues to teach and spread our knowledge and interests to the next generation. Whether you are interested in having us in your classroom or community program many times, or just one or two, we'll work with you to maximize student learning. Our presentations are scheduled beginning in August. If you would like to participate or simply want more information, please contact us at siugrassoutreach@gmail.com.
Topics Covered
Many of the presentations and activities we use when working with students are developed by members of our group. As our program grows, the list of topics we present will also grow and change. At present, the topics we have developed for presentation include the following:
Hunting as a Management Tool - M. Springer & D. Goble
Large Carnivores: Why are they important for healthy ecosystems? - J. B. Smith 
Taking wildlife ecology into the classroom: assessing the relationship between 
predators and their prey in the high Andes of South America - R. Crego & A. Jackson
Tropical Forest Ecology - J. Swan
Forests of the Eastern United States and Climate Change - N. Jensen
Reptiles and Amphibians - A. Wolf
Grasslands and Grassland Communities in Illinois - K. Schmidt
Cougars in Chicago? Snowy Owls in Southern Illinois? The what and why 
of animal dispersal - S. Cooney
Ecosystems in Your Backyard: The Cache River - J. Crawford
Ecosystem Webs: The Circle of Life - C. Robinson
Bobcat Ecology in Southern Illinois - S. Hiestand & M. Tosa
Some of our presentations also include labs and hands-on activities:

Prey Vigilance and Predation Risk
Ecosystem Webs Activity
---
Contact Us
Looking for more information or would like to participate? 

Contact:
Ben Hendrickson
Director of Community Outreach
Graduate Research Assistant
Cooperative Wildlife Research Laboratory
siugrassoutreach@gmail.com
OR
Victoria Phillips
Director of K-12 Outreach
Graduate Research Assistant
Department of Zoology
siugrassoutreach@gmail.com

OR

Dr. Robin Warne
Faculty Advisor
Director of SIU Center for Ecology
Associate Professor - Dept. of Zoology
rwarne@siu.edu